US~Observer Print Edition Headlines
---
---
US~Observer Print Edition Headlines (Continued)
---
---
Personal Liberty Digest Contributions

Do We Have A Sociopath In The White House?
---
---
---
---
2nd Amendment

Growing movement among states aims to nullify federal firearms regulation
--News 21

Another Second Amendment Victory in California
--OC-Breeze
---
---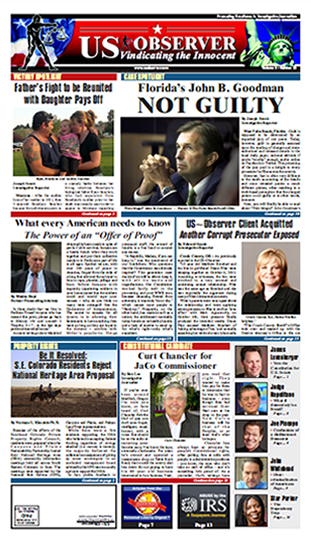 See the US~Observer
as it was printed!
CLICK HERE
(This is a large file.)
---
Subscribe to the US~Observer
FREE News Alerts!
---
The US~Observer believes in our country, our constitution,
and the public right to adequate representation.
The US~Observer is designed to keep the innocent free,
the public informed, and our form of government
controlled by the people.
If you would like to make a donation to the cause,
it can be sent to:
US~Observer
233 Rogue River Hwy. PMB 387
Grants Pass, OR 97527-5429