Daily News - US~Observer Editor Picks
US~Observer Print Edition Headlines

BLM Ranger Accuesd of
Molesting 11-yr. old



Minns Wins!
IRS vs. Stephen Squires



Man Escapes
Criminal Charges



Being a Bad Neighbor
Doesn't Pay



Unaccountable Insurance
Companies & Businesses


Return of
the King


EPA Must Be
ABOLISHED


Lemonade & Cookies; Policy
--End of the American Dream

Liberty and Justice for All
The Verdict is in...
--Nathan Wente
Defense Attorney


Why Trust in Law Enforcement
--J.M. Appleton
US~Observer Exclusive

Why QE2
Failed
--Ellen Brown
A DeKalb County Nightmare: Innocent Man Faces 2nd Trial

Daily Breaking Mainstream Headlines
---
---
US~Observer Print Edition Headlines (Continued)
---
---
More News Below Advertisement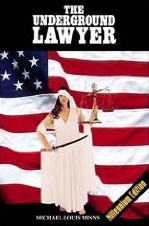 EXCLUSIVE!
The US~Observer is proud to offer you:
US~Observer Collector's Edition of
'The Underground Lawyer®'
The Underground Lawyer® was written by renowned attorney Michael Minns as a symbol of intolerance for those who have abused their power and authority, and abused the rights of every day people. It also serves as encouragement to attorneys who represent these victims and their, who have found themselves the prey of this abuse. Written in a colorful and vivid voyeur perspective, The Underground Lawyer chronicles actual case histories, courtroom activities, and some of Minn's history-changing appellate decisions where rulings have been overturned.

The US~Observer Collector's Edition of the Millennium Edition (3rd printing) of 'The Underground Lawyer®' is a 2009 re-release honoring the Twentieth Anniversary of its first printing.
Each hard-bound book is signed by Author Michael Minns and there are only 100 in existence! Best yet, through our exclusive deal, we are offering them below normal retail!
Yours for only $29.95! plus S&H
(Amazon's unsigned book price: $34.95 before shipping!)

---
---
COMMENTARY

The Food Police
--Lawyer Jonathan Emord

"It's Policy" Has Become An Excuse
For Absolutely Unspeakable Acts
--End of the American Dream

Debt Ceiling Drama
--Ron Paul

10 Ways Progressive Policies Harm Society's Moral Charachter
--Dennis Prager

NATURAL WRONGS, NATURAL RIGHTS
--Victor Sayer
US~Observer Exclusive

---




---

2nd AMENDMENT

Obama Executive Orders Impose
New Gun Rules
--The Blaze

Incident Reveals Why Gun Carry Laws Work
--Tyler Paper/ NRA

Bullet Tax?: Baltimore Mayoral Candidate
Offers Unusual Crime Prevention Plan
--The Blaze

---
---
---
Subscribe to the US~Observer
News Flash Alerts!
---
---
The US~Observer believes in our country, our constitution,
and the public right to adequate representation.
The US~Observer is designed to keep the innocent free,
the public informed, and our form of government
controlled by the people.
We survive, in part, by gracious donations.
They may be sent to:
US~Observer
233 Rogue River Hwy. PMB 387
Grants Pass, OR 97527-5429